July 2019: Pilot training for health care staff from private institutions
At the urgent request of Rwanda, a training course focusing on basic hygiene and identification of suspect Ebola cases for health personnel from private health facilities was jointly designed and successfully piloted in July 2019 in cooperation with the Rwanda Biomedical Centre (RBC).
The 4-day training was conducted by EFFO trainers and their colleagues from the RBC. They trained 28 doctors and nurses from private hospitals, clinics and health centres.
Prior to this, the EFFO and RBC trainers held a joint workshop to harmonise training curricula and to prepare health personnel for the management of suspect Ebola cases. Due to the ongoing Ebola outbreak in the neighbouring country, the Democratic Republic of Congo, the health care staff in all high risk regions has to be trained as quickly as possible.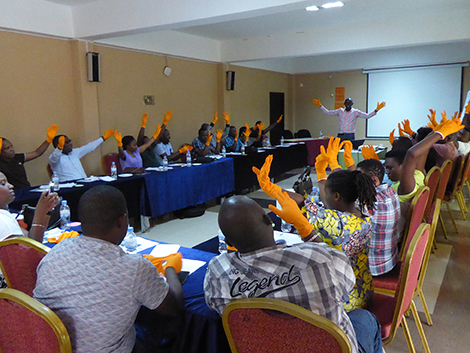 Exercise for correct removal of gloves without contamination.