Transfer and reflection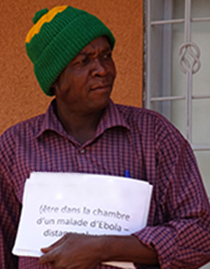 Transfer exercises are important to understand content and to be able to make use of it in practice. The situations in which what is learned is actually implemented are often very different from the practice situations. Knowledge and skills must therefore be able to be transferred to other contexts.
The transfer exercises focus specific module contents, but are generally relevant across all modules. In the EFFO pilot phase, certain problems occurred repeatedly. These formed the basis for transfer exercises that should make difficult issues more comprehensible.
Reflection exercises give the participants the possibility to deal with the challenges of the work in the context of Ebola. Through interactive methods (question cards, sociometry, etc.) the participants will be encouraged to reflect on their motivation, their fears, and their role in the fight against Ebola.
Further information and downloads