EFFO delegation in Rwanda: First planning meetings for the construction of a special isolation unit
From 20.11.2021 - 28.11.2021, EFFO project staff from the RKI, the TU Braunschweig and the medical clinic with focus on infectious diseases and pneumology of the Charité Berlin travelled to Rwanda. The occasion was to follow-up talks for the construction of a high level isolation unit at King Faisal Hospital in Kigali and the planning of further training activities.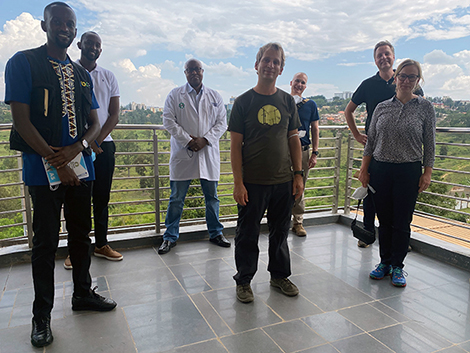 Working meeting on the balcony of the King Faisal Hospital in Kigali
The EFFO project has been active in Rwanda since June 2018. In response to the Ebola fever outbreak in the Democratic Republic of Congo in August 2018 and in order to contain the risk of the epidemic spreading beyond the country's borders to Rwanda, hospital staff in the country were trained in infection prevention and in dealing with suspected Ebola fever cases. From the intensive cooperation of the past years between the EFFO team, the RBC Rwanda and supported by WHO and the Federal Ministry of Health in Germany, the further improvement of infection prevention and control in health care facilities, and the management of HCID suspected or confirmed cases was decided as a common goal for the cooperation in the coming years.
The starting signal for the planned construction of a high level isolation unit with an affiliated HCID training programme for medical staff was given by the BMG in November 2021.
The COE (Centre of Excellence) with its high level isolation unit will be built near a large hospital in Rwanda in order to take advantage of already existing specialised staff and equipment. During the mission, working meetings were held with representatives from the RBC as well as from the hospital and building-functional hygiene management (construction) departments as a basis for further project planning in 2022.